CREI Ensemble
Nicola Fazzini (alto and soprano sax, compositions and conduction)
Ettore Martin (tenor sax and compositions)
Gianluca Carollo, Daniele Goldoni (trumpets)
Federico Pierantoni (trombone and compositions)
Alberto Prandina (French horn)
Glauco Benedetti (tuba)
Saverio Tasca (vibes)
Alessandro Fedrigo (electric bass and compositions)
Luca Colussi (drums)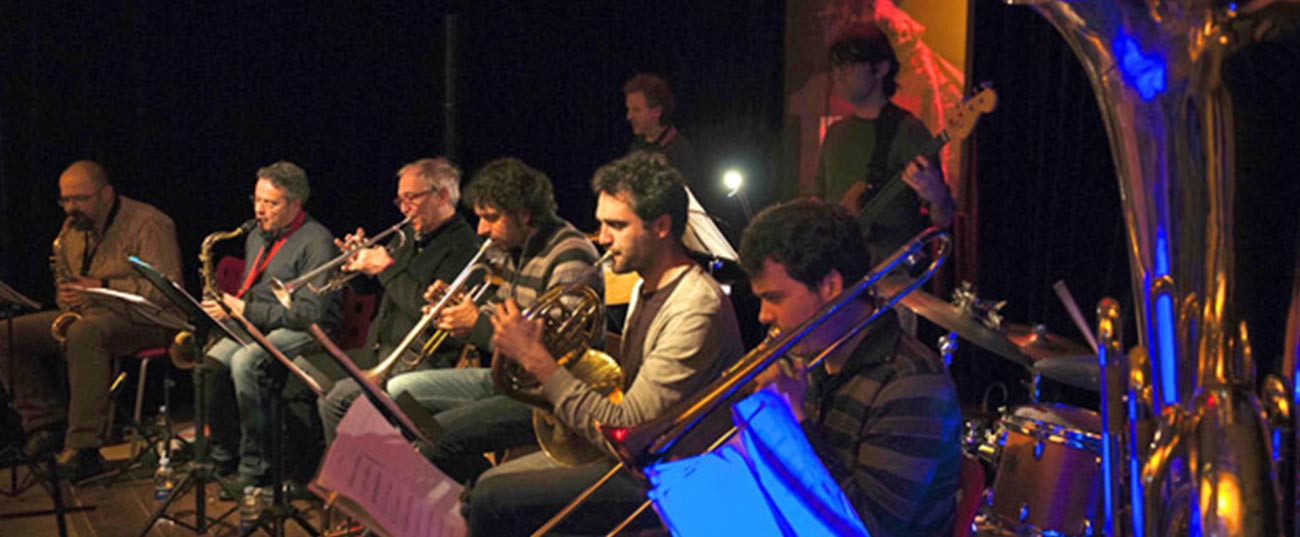 Born in January 2014, CREI is an ambitious project founded by saxophonist Nicola Fazzini with the goal of developing the relationship which exists between "Composition, Research and Improvisation" in contemporary improvised music, but also interested in 'cultural planning'.
CREI is a 'ten pieces' ensemble with a rhythm section plus a strong wind instruments' front line. These ten variable elements are musicians, improvisers and composers too and most come from the North of Italy.
They rehearse original music trying to use also two instruments that are no frequently used in jazz music such as tuba and French horn to gain more interesting solutions of timbre.
First part of CREI project has been produced by Ca' Foscari's Foundation of Ca' Foscari University in Venice, Italy.
CREI had its debut at the second edition of "MusiCafoscari Jazz Fest" in Venice (March 2014).
The other main partner of this project is the association and label nusica.org. Following the philosophy of the association the charts, the audio files, the videos and the texts about this work are all downloadable for free on nusica.org's website.
CREI wants to create a multidisciplinary experiences' network working between the professional music environment and University or other educational places.
Introdurre un progetto musicale con un testo filosofico non è pratica usuale nel jazz. Il timore di molti è quello dell'intellettualismo, ossia l'idea che il pensiero e il logos possano in qualche modo sottrarre qualcosa alla musica a danno dell'inesprimibile e dell'inesplicabile insiti in essa.
Ma questo non vuol essere un progetto jazzistico, o meglio ancora non soltanto jazzistico. Infatti molte delle riflessioni che hanno animato CREI sono nate dalla sensazione di una crisi creativa che attanaglia alcune pratiche legate all'improvvisazione jazzistica più o meno libera.
Ci sembrano insoddisfacenti molti modelli che attribuiscono alla composizione e all'improvvisazione funzioni e ruoli rigidi all'interno dei diversi generi musicali. Ad es. alcune musiche seppur improvvisate risultano ripetitive e banali mentre altre scritte possono essere imprevedibili e originali. Per contro anche la presunta superiorità formale della musica colta scritta rispetto a quella improvvisata è stata ampiamente confutata dalle vicende musicali del secolo scorso.
Perché dunque non ridiscutere questi giudizi, ponendo al centro del nostro lavoro la qualità delle idee musicali indipendentemente dal fatto che esse siano espresse attraverso un linguaggio scritto o improvvisato?
Questa riflessione cominciata molti anni fa tra me e Alessandro Fedrigo, continua oggi con Daniele Goldoni e trova in questo testo molti elementi di interesse e una piena identità di vedute.
Il progetto musicale CREI, lungi dall'aver trovato soluzione a queste problematiche, vuol essere comunque di stimolo alla ricerca musicale anche soltanto per il fatto di renderne pubblici i contenuti e liberamente fruibili tanto la musica quanto le partiture e le idee in essa contenute.
Nicola Fazzini
Si ringrazia vivamente la rivista online Aisthesis e il suo Direttore il Prof. Fabrizio desideri, per averci concesso la pubblicazione di questo articolo
Composizione e improvvisazione: dove sta la differenza?
Daniele Goldoni
Abstract
Improvisation is often conceived as making music without reading a score. This interpretation derives from the Western identification of composition with written music. But "improvisation" too is a form of composition – and not just in "real time" – with aims and criteria that differ from those of written music. Today the interest in improvisation is growing –and even changing with respect to the postwar years – in connection with changes in music, sound and social relationships, reflecting new media developments.