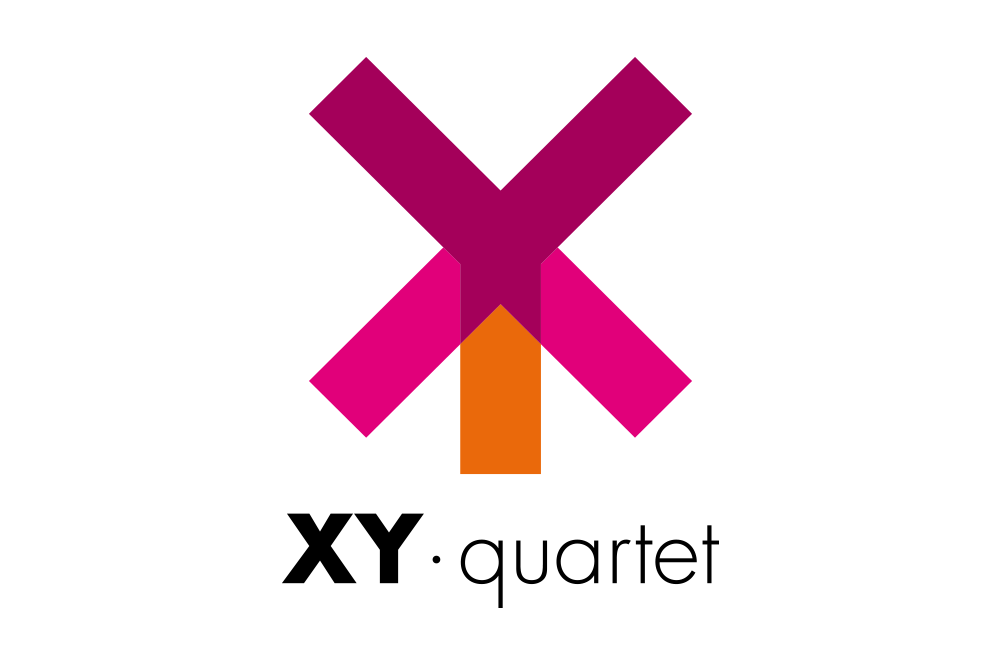 XYQuartet
Nicola Fazzini (alto sax)
Alessandro Fedrigo (bass guitar)
Saverio Tasca (vibes)
Luca Colussi (drums)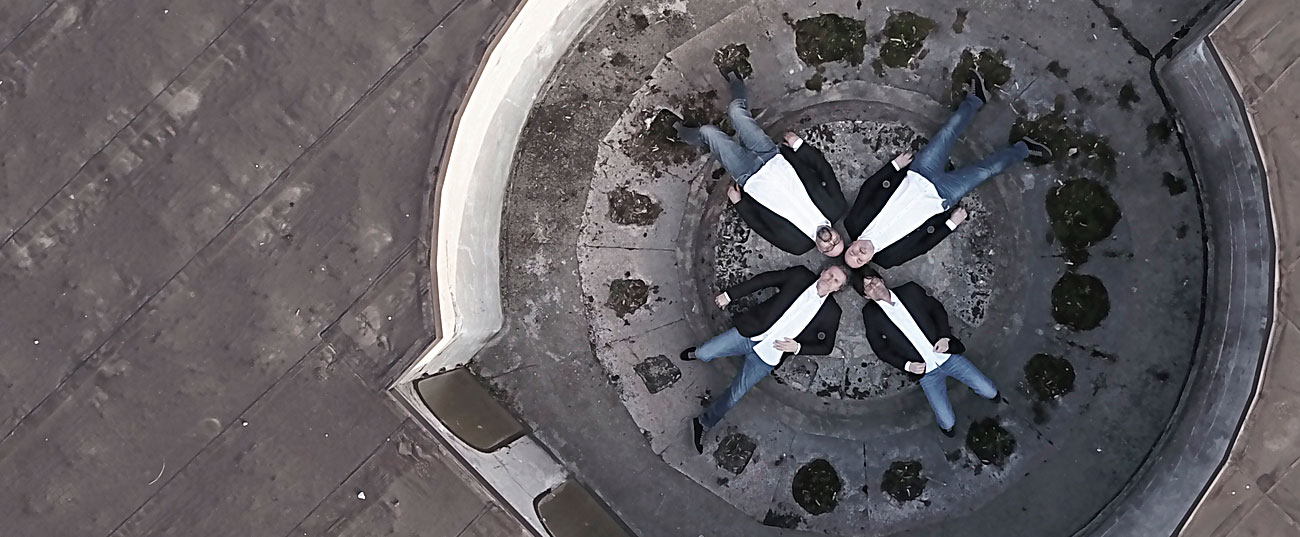 «QUAND LA RECHERCHE MUSICALE PRODUIT DE LA BEAUTÉ ON NE PEUT QUE S'EXTASIER»
Serge Baudot, Jazz Hot
«XY PLAYS A 'MODERN JAZZ' WITH CROSS STRUCTURES, COMPLEX CONNECTIONS AND A CONSTANT COURAGE TO RISK»
Ernst Mitter, Freistil, November 2013
«ONE OF THE MOST PECULIAR ITALIAN JAZZ GROUPS OF OUR TIME»
Stefano Merighi, Centro d'Arte in Padua
«ONCE YOU GET INTO "XY"'S GAME, YOU'LL BE FASCINATED BY IT. EXCELLENT»
Enrico Bettinello, Il Giornale della Musica, May 2014
ITALIAN SECOND "BEST GROUP"
TOP JAZZ 2017 – MUSICA JAZZ magazine
XYQuartet is one of the most appreciated groups of the new Italian jazz scene. With three albums and many concerts in Italy and abroad, it was awarded "second best Italian group" by the magazine Musica Jazz.
Born in 2011 in Italy, XYQuartet is a fusion of saxophonist Nicola Fazzini and bass player Alessandro Fedrigo. They create an original, exciting and innovative music with Saverio Tasca at the vibes and Luca Colussi at the drums. This project passes through different kinds of music and artistic languages updating them to Contemporary. The group explores new ways of composing with a quirk approach. For XY, to restructure the music form is an ethics to build-up the beyond-jazz. The "X" by Fazzini and the "Y" by Fedrigo represent two approaches, two ideas, two complementary artistic identities but also two instruments, like the alto sax and the acoustic bass guitar.
After "Idea F" and "XY", "Orbite" is the third album by XY Quartet, released on April 12, 2017, not a random date, because in the same day, but in 1961, astronaut Yuri Gagarin became the first man to orbit the Earth. This release date is no coincidence: as a matter of fact, on 12th April 1961, Yuri Gagarin was the first man to journey into outer space and complete an orbit of the Earth.
Musically speaking it's a big step towards the evolution of this band's musical language which goes from jazz to contemporary music, from prog to post minimalism and from pop to the latest NY in influences. To do so, they research and develop this new language in a creative and influent way, putting together all these different musical codes in a very homogenous form.
Since 2011, the band has played many concerts and tours in Italy and abroad, performing in well renowned stages: from Rome's Casa del Jazz to Ferrara's Torrione Jazz Club, to Umbria Jazz, Novara Jazz, Foligno Young Jazz, Ambia Jazz, Gallarate Jazz Festival, Valdarno Jazz, Padova's Centro D'Arte, Pisa Jazz and many others. XYQuartet's music has recently crossed the Italian border with concerts in Austria, Germany, Slovenia, Hungary, Poland, Spain, France and Belgium.
Nicola Fazzini is a saxophonist and composer originally from Milan, now Venetian resident.  With an established live musical experience in Italy and abroad, he appears in several recordings and has collaborated with internationally renowned musicians like Enrico Rava, Peter Erskine, and emerging talents like Miles Okazaki, Amir ElSaffar, and Samuel Blaser.  For years he's been devoting himself to pursue innovative and experimental musical projects (XY Quartet, Hyper+, CREI).  He also worked as an educator with the University Ca' Foscari and as an artistic director with many other institutions for special projects (Jazz Area Metropolitana, File Jazz Festival, Musicafoscari.S. Servolo Jazz Fest).
www.nicolafazzini.com
Alessandro Fedrigo is a specialist of the acoustic bass guitar all other the world. The one he plays is fretless and often he uses sound effects to modify this instrument's sound. For him, the importance of researching a peculiar sound is crucial. During his career he played jazz, free improvisation, experimental music, electronic and explored multimedia performances. He recorded more than 30 cds. He played with Amir ElSaffar, Samuel Blaser, Francois Huole, Tony Scott, Jimmy Weinstein, Chris Hunter, Ben Monder, Robert Wyatt, Elliot Zigmund, Ferenc Nemeth. In 2011 JAZZiT awarded him as one of the best bass players of the year. The same year, he published his first solo-album "Solitario" (nusica.org). He took part to original projects like Silvia Donati & StandHard 3io, Quartetto Terrestre with Achille Succi, "Corde Alterne" with Roberto Gemo, "Maya" dedicated to the great film-maker Maya Deren, CREI Ensemble. Since 2011 he is the artistic director of nusica.org, an indipendent, digital, ecological and conceptual label. He is also the principal curator of "Sile Jazz" Festival in Treviso which offers site-specific concerts in Treviso area.
www.alessandrofedrigo.com
Saverio Tasca plays both vibes and marimba but he is also a composer who experiments different music languages like jazz, contemporary and classical. He worked both in Italy and all other the world also for the theatre, playing with Franco D'Andrea, Jovanotti, Ivano Fossati and many others. Now he teaches at Vicenza Conservatory.
He believes that classical music and ethnic music are the real sources of these days music. His path implies free connections between him and the other musicians and between him and the different instruments he plays. It implied a lot of collaborations visible on his instrumental style too. So the timpani, the drum and avant-garde instruments echo on his phrasing and on his keyboards. His project are Saverio Tasca Trio, a duo with Roberto Gemo and the Vibeguitar Quartet. He played in CREI Ensemble.
www.saveriotasca.com
Luca Colussi is an eclectic drummer who works in different situations; he is an improviser, a composer and a teacher too. In fifteen years he worked for the theatre, for movies and in poetry readings, but he dedicated most of his time to jazz music. He studied and played with Kenny Wheeler, Fred Hersch, John Taylor, with whom he recorded a cd. He has played with David Liebman, Andy Gravish, Mike Applebaum, Francesco Bearzatti, F. Bosso, F. Boltro and many others in Italy and all over Europe. He has a great flexibility on rhythm, an amazing groove and an outstanding creativity; these are the most important characteristics of his style. Among his latest projects there are Rosa Brunello y los Fermentos (they have just been produced by CAM-Jazz), Glauco Venier Quartet  and Dario Carnovale Trio (they have just been produced by Albóre for the Japanese market).
www.lucacolussi.com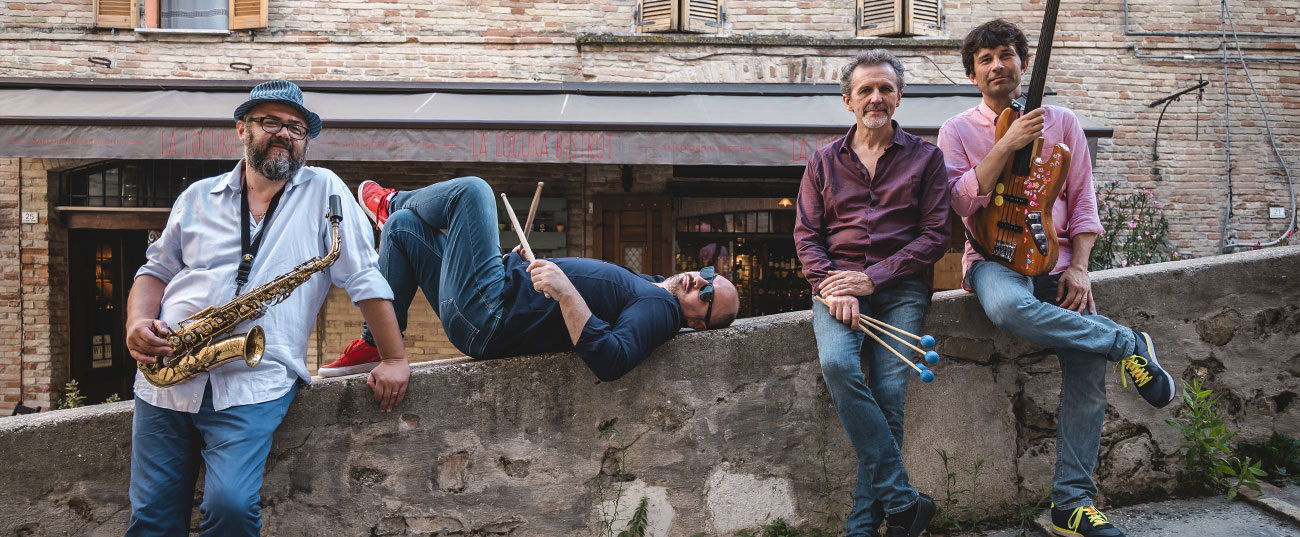 XY
Nicola Fazzini (alto sax), Alessandro Fedrigo (bass guitar), Saverio Tasca (vibes), Luca Colussi (drums)
5 Astronauts
A multimedia project in collaboration with the video artist Claudio Sichel.
Nicola Fazzini (alto sax), Alessandro Fedrigo (bass guitar), Saverio Tasca (vibes), Luca Colussi (drums), Claudio Sichel (visuals)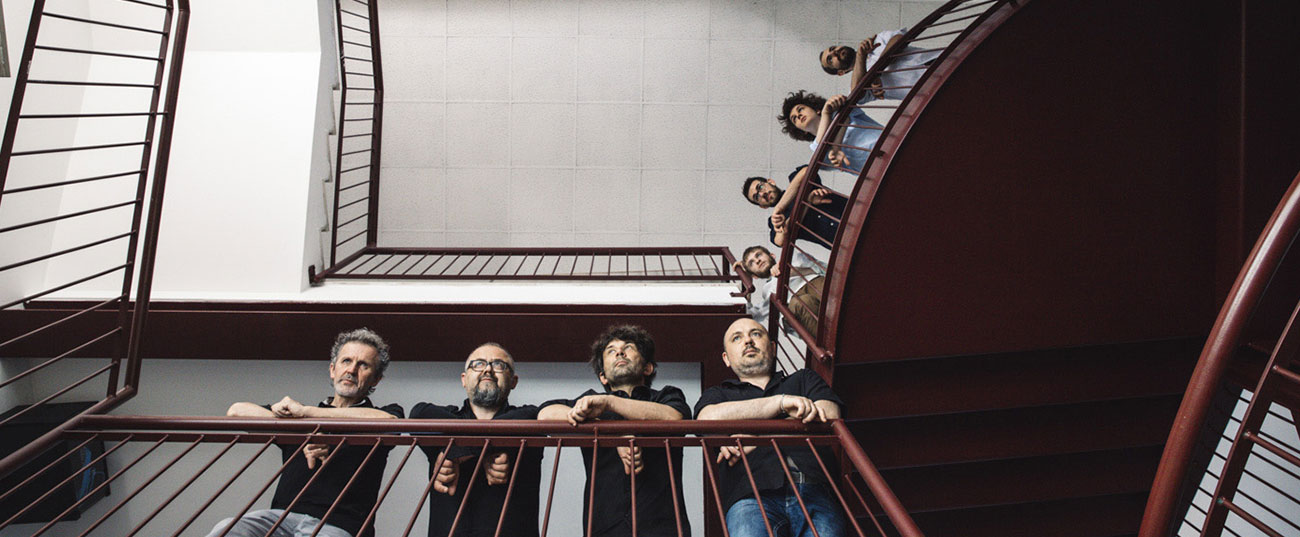 QuartettoQuartetto
A project realized with four percussionists of the Arrigo Pedrollo Conservatory of Vicenza.
Nicola Fazzini (alto sax), Alessandro Fedrigo (bass guitar), Saverio Tasca (vibes), Luca Colussi (drums), Christian Del Bianco (percussions), Paolo Zanin (percussions), Rossano Muzzupapa (percussions), Luca Gallio (percussions).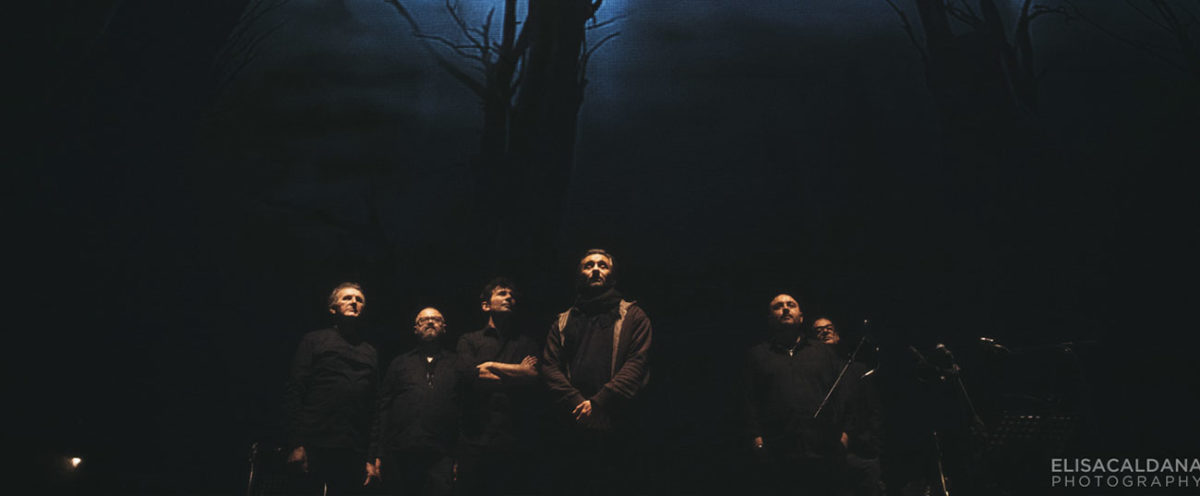 StraborDante
XYquartet & John De Leo
StraborDante
A musical journey of 9 stages in Dante's Inferno
John De Leo – voice, Alessandro Fedrigo – music compositions and arrangements, electric bass, Nicola Fazzini – music compositions and arrangements, alto sax /XYQuartet, Luca Colussi – drums/XYQuartet, Saverio Tasca – vibraphone / XYQuartet, Vincenzo De Vivo – dramaturgy and lyrics, Francesco Lopergolo – multivisions, Franco Naddei – live electronics
On the occasion of the VII centenary celebrations in 2021 for Dante Alighieri's death, StraborDante is born: a musical journey between jazz, rock and noise, in which the imaginary of Dante's Inferno comes to life in a multimedia show. Original songs and rearrangements of thirteenth-fourteenth-century compositions by the XYQuartet , talk through the unique voice of John De Leo and the images created by the artist Francesco Lopergolo. During the nine different stages of the StraborDante's journey, meetings, dialogues, awesomeness, allegories and the extraordinary inventions that populate the most evocative Canto of the Divine Comedy come definitely to life.
To give life to the rich imaginary of Inferno is the sound of XYQuartet, a prominent ensemble of the Italian and European jazz scene: Nicola Fazzini (alto sax), Alessandro Fedrigo (electric bass), Saverio Tasca (vibraphone) and Luca Colussi (drums). Nicola Fazzini and Alessandro Fedrigo are the music composers : 4 original tracks – Oscura (N. Fazzini). Limbo (A. Fedrigo), Pozzo del Gigante (N. Fazzini), Canto Invisibile (A. Fedrigo) which describe the places between the circles of Inferno. To this we add the work of arrangiament of 4 medieval compositions taken from il Laudario di Cortona, musical code of the XIII century, works of  Marchetto da Padova, author of songs and motets like Ave regina coelorum/Mater innocenccie (Marchetto da Padova)- rearranged in a duplicate Version of Ave Corpus Sanctum(Marchetto da Padova), Peccatrice Nominata (Laudario di Cortona AAVV) and Piangiamo del crudel basciar (Laudario di Cortona AAVV) and considered one of the first representatives of Ars Nova in Italy.
The interpretation of the texts and of the original dramaturgy of Vincenzo De Vivo, is performed by John De Leo: an eclectic and versatile artist, one of the most interesting voices among with his extraordinary stage presence in the Italian music scene of the last decade. His voice-instrument , at times warm, acute, scratchy,and deeply felt is perfectly able to interpret the multiple shades of the composition, from singing to acting. A remarkable interpretation that, together with the electronic live by to Franco Naddei , gives words and dialogues back to the famous characters like Virgilio, Paolo and Francesca, Pier Delle Vigne, Ulisse, Count Ugolino encountered during the journey from the dark forest to the heart of the underworld.
StraborDante borders on the visual performance thanks to the images that take shape with multi-visions by the artist Francesco Lopergolo. The musicians are completely absorbed in settings, appearances, visual allegories, achieved by the alteration of the images and  the re-elaborated version of the shooting at Grotte del Caglieron , in the region of Montello. (Fregona TV).
The intrinsic bond between music, acoustics, poetry and image examined by the same father of the Italian language with StraborDante is not only an artistic action but more a philological reconstruction aimed to led poetry to its most authentic origin back, to a time when the relationship with music was much closer, in an almost symbiotic way. By "Overflowing" and turning the borders between theatrical pièce, concert, and the historical and linguistic boundaries upside-down, the show leads us right into the Word and Dante's vision, returning it with all the dynamism and newness of the extraordinary immortal Work, that is still able to convey its greatness.
The project has been promoted by the Ministry of Foreign Affairs and the International Cooperation – General Management for the Country System Promotion – within the project "Vivere all'italiana in musica".
29 novembre 2021 / ore 19.00 XYQuartet Ella & Louis – Mannheim, Germania
23 ottobre 2021 / ore 21.00 XYQuartet Flame Jazz – Turku, Finlandia
22 ottobre 2021 / ore 19.00 XYQuartet Latvian Radio – Riga, Lettonia
13 ottobre 2021 / ore 18.00 XYQuartet Kulturverein Reigen – Vienna, Austria
12 ottobre 2021 / ore 19.30 XYQuartet Kulturforum – Villach, Austria
06 settembre 2021 / ore 21.00 XY2 (Nicola Fazzini e Alessandro Fedrigo duo) Casa del Jazz – Roma
29 luglio 2021 / ore 21.00 XYQuartet More & Jazz Festival – Sutivan, Croazia
25 luglio 2021 / ore 21.00 XYQuartet & Ensemble di Percussioni Pedrollo Cittadella Jazz – Cittadella, Padova
22 giugno 2021 / ore 21.00 XYQuartet Lana meets Jazz – Lana, Bolzano
14 maggio 2021 / ore 21:00 XYQuartet Like a Jazz Machine festival – Dudelange, Lussemburgo
10 Novembre 2020 / ore 21:00 XYQuartet Kulturverein Reigen – Wien, Austria
8 Novembre 2020 / ore 21:00 XYQuartet El Jazz – Bydgoszcz, Polonia
6 Novembre 2020 / ore 21:00 XYQuartet Jazzovia – Gliwice, Polonia
2 Novembre 2020 ore 19:00 Ella & Luois Jazz Club – Mannheim, Germania
31 Ottobre 2020 ore 19:00 Rigas Ritmi – Riga, Lettonia
30 Ottobre 2020 ore 19:00 Flame Jazz Festival – Turku, Finlandia
29 Ottobre 2020 / ore 20:00 XYQuartet Philly Joe's Club – Tallin, Estonia
17 Ottobre 2020 / ore 17.00 XYQuartet Eklektik Session 2020 – Wroclav (Poland)
16 Ottobre 2020 / ore 21.00 XYQuartet Cantina Fasol Menin – Valdobbiadene (Treviso)
4 Ottobre 2020 / ore 21.00 XYQuartet Torino Jazz Festival – Torino
6 Settembre 2020 / ore 17:00 XYQuartet / Il Jazz Italiano per le Terre del Sisma – Aquila
31 Luglio 2020 / ore 21.00 X&Y (Alessandro Fedrigo e Nicola Fazzini duo) Una Striscia di Terra Feconda – Palazzo Farnese Caprarola
23 Luglio 2020 / ore 21.00 XYQuartet Museo di Santa Caterina – Treviso
24 Novembre 2019  ore 18:00 Centro Visite Radiotelescopi – Bologna
31 Ottobre 2019 ore 22:00 Multimedia Performance Teatro Miela Bonawentura – Trieste
28 Ottobre 2019 ore 20:00 Tenho Bar – Helsinki, Finland
28 Ottobre 2019 ore 13:00 workshop Metropolia University – Helsinki, Finland
27 Ottobre 2019 ore 21:00 Ihana Baari – Helsinki, Finland
26 Ottobre 2019 ore 21:00 Turi Jazz Club – Pärnu, Estonia
25 Ottobre 2019 ore 21:00 Philly Joe's Jazz Club – Tallin, Estonia
24 Ottobre 2019 ore 21:00 Komeda Jazz Festival – Slupsk, Polonia
14 Settembre 2019 ore 22:00 Europe Jazz Conference – Novara
7 Settembre 2019 ore 21:00 Vendemmia Jazz – Ovada (AL)
10 Agosto 2019 ore 10:00 Bezau Beatz – Austria
1 Agosto 2019 ore 21:00 Festival Jazz Al Castello Porto San Giorgio  – Marche
17 Febbraio 2019 ore 17.30 Festival Contrasti – Rovereto – Trento
09 Febbraio 2019 ore 21.30 Valdarno Jazz Festival – Loro Ciufenna – Arezzo
08 Febbraio 2019 ore 21 Cotton Jazz Club – Ascoli Piceno
07 Febbraio 2019 ore 21 Enoteca Bistrot Colonna – Bertinoro
06 Febbraio 2019 ore 21 Cantina Bentivoglio – Bologna
10 Gennaio 2019 ore 21 Orbite Multimedia Performance – Dekadenz – Brixen
27 Dicembre 2018 ore 21 Stranger than Paranoia Festival – Tilburg – Holland
27 Ottobre 2018 ore 13:30 Jazz & Wine – Cormons – Gorizia
25 Ottobre 2018 ore 21 Nel Gioco del Jazz -Teatro Forma – Bari
22 Settembre 2018 ore 21 Mutamenti Jazz Festival – Licciana Nardi
07 Settembre 2018 ore 21 Festival JAZZaltro Volandia, Museo del Volo – Somma Lombardo – Varese
28 Agosto 2018 ore 22:30 Radio Broadcasting: Radio3 Suite
Una Striscia di Terra Feconda – Concerto del settembre 2017 a Tivoli
26 Maggio 2018 ore 21:00 Ecosteria – Treviso
11 Maggio 2018 ore 19.00 PalmJazz Festival Gliwice – Polonia
07 Maggio 2018 ore 21:00 Radio Café ORF Vienna – Austria
09 Maggio 2018 ore 21:00 Opus Jazz Club Budapest – Ungheria