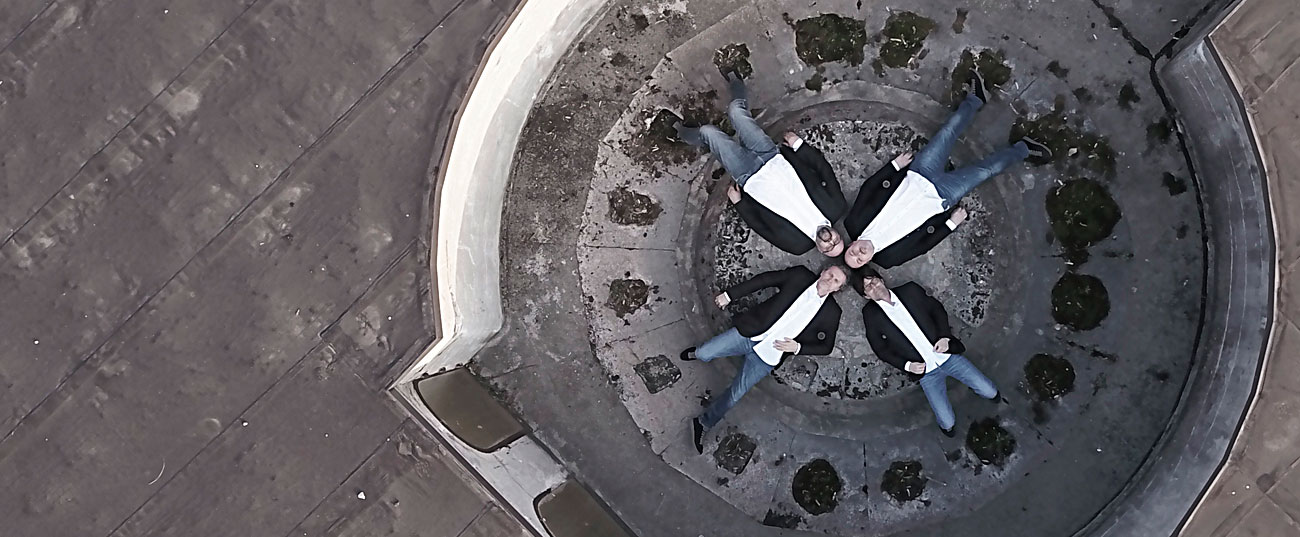 XYQuartet
Nicola Fazzini (alto sax)
Alessandro Fedrigo (acoustic bass guitar)
Saverio Tasca (vibes)
Luca Colussi (drums)
«QUAND LA RECHERCHE MUSICALE PRODUIT DE LA BEAUTÉ ON NE PEUT QUE S'EXTASIER»
Serge Baudot, Jazz Hot
«XY PLAYS A 'MODERN JAZZ' WITH CROSS STRUCTURES, COMPLEX CONNECTIONS AND A CONSTANT COURAGE TO RISK»
Ernst Mitter, Freistil, November 2013
«ONE OF THE MOST PECULIAR ITALIAN JAZZ GROUPS OF OUR TIME»
Stefano Merighi, Centro d'Arte in Padua
«ONCE YOU GET INTO "XY"'S GAME, YOU'LL BE FASCINATED BY IT. EXCELLENT»
Enrico Bettinello, Il Giornale della Musica, May 2014
SECOND "BEST GROUP"
One of the TEN "BEST ALBUM" of the year
TOP JAZZ 2014 – MUSICA JAZZ magazine
Born in 2011 in Italy, XYQuartet is a fusion of saxophonist Nicola Fazzini and bass player Alessandro Fedrigo. They create an original, exciting and innovative music with Saverio Tasca at the vibes and Luca Colussi at the drums. This project passes through different kinds of music and artistic languages updating them to Contemporary.
The group explores new ways of composing with a quirk approach. For XY, to restructure the music form is an ethics to build-up the beyond-jazz. The "X" by Fazzini and the "Y" by Fedrigo represent two approaches, two ideas, two complementary artistic identities but also two instruments, like the alto sax and the acoustic bass guitar. Together they're the 'double F' of the title "Idea F", their first album released by Italian label nusica.org. The cd has been awarded one of the best 100 albums of 2012 by JAZZiT Magazine in Italy and was positively received by the critic, allowing the quartet to play in prestigious clubs and festivals. "Idea F" introduced some techniques of the 20th century Contemporary Music to jazz music but reworked them finally offering a new genre.
On May 2014 nusica.org announced the release of "XY", the homonymous new album which has been realized thanks to a crowd-funding campaign. XY believes also in 'open content philosophy' and makes both music and scores available on nusica.org website; this feature expresses and supports the constant 'work in progress' of the band. On the very same year XY was awarded second best Italian group and sixth best Italian album by Musica Jazz magazine at the Umbria Jazz Winter gala night.