Open source label nusica.org's philosophy is to promote innovative and 'beyond-jazz' projects.
Hyper+ is a recent trio interested in a research on timbres and sound, on new techniques of improvisation, using new rhythmic and melodic elements and playing both acoustic and electric instruments with effects and much more.
In this "music lab" Nicola Fazzini, Alessandro Fedrigo and Luca Colussi developed a creative vocabulary that they apply to both original pieces and standards.
Nicola Fazzini is a saxophone player with a constant experience in live music. He collaborated with Enrico Rava, Peter Erskine, Carla Bley, Mark Murphy and many others. In these years he dedicated his work to a development of some compositional techniques which consider new musical elements. He uses lots of polyrhytmical modulations which creates a peculiar and original sound, and encourage the other musicians to improvise.
He played a lot in Europe, US and Asia. He founded and participates to original projects: "Nicola Fazzini Quartet", "Try Trio" and "CREI Ensemble" (Composition, Research and Improvisation) realized with the partnership of Ca' Foscari, University in Venice.
From 2007 he is the director of "Thelonious Monk" in Mira (VE), one of the most important jazz music schools in Italy. From 2010 he is the artistic director of "JAM – Jazz A Mira" Festival which hosts young italian and foreign artists and their new jazz projects.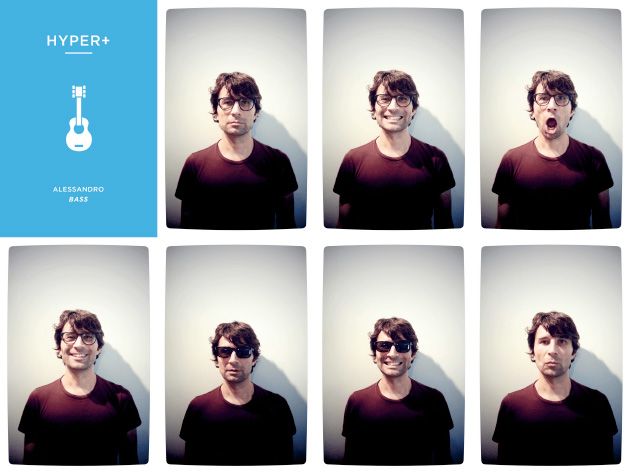 Alessandro Fedrigo is a specialist of the acoustic bass guitar all other the world. The one he plays is fretless and often he uses sound effects to modify this instrument's sound. For him, the importance of researching a peculiar sound is crucial.
During his career he played jazz, free improvisation, experimental music, electronic and explored multimedia performances. He recorded more than 20 cds. He played with Tony Scott, Chris Hunter, Elliott Sharp, Debora Petrina.
In 2011 JAZZiT awarded him as one of the best bass players of the year. The same year, he published his first solo-album "Solitario" (nusica.org).
He took part to original projects like Silvia Donati & StandHard 3io, "Corde Alterne" with Roberto Gemo, "Maya" dedicated to the great film-maker Maya Deren, CREI Ensemble.
Since 2011 he is the artistic director of nusica.org, an indipendent, digital, ecological and conceptual label. He is also the principal curator of "Sile Jazz" Festival in Treviso which offers site-specific concerts in Treviso area.

www.alessandrofedrigo.com
Luca Colussi is an eclectic drummer who works in different situations; he is a teacher, a composer and an improviser too.
In fifteen years he worked for the theatre, for movies and in poetry readings, but he dedicated most of his time to jazz music. He studied and played with Kenny Wheeler, Fred Hersch, John Taylor; with him, he recently recorded a cd.
He collaborated with David Liebman, Andy Gravish, Mike Applebaum, Francesco Bearzatti and many others. He played in Italy, in Slovenia and France.
He has a great flexibility on rhythm and a wonderful accuracy on reading the score; these are the most important characteristics of his style.
Three projects in which he is evolved are Dario Carnovale Trio, Pupkin and G.Venier Quartet Plays T. Waits. He played also in CREI Ensemble.

www.lucacolussi.com
---
10 Maggio 2019 / Ore 21:00
Rovigo Jazz Festival // Rovigo – Italia
---
09 Maggio 2019 / Ore 21:00
Cantina Fasol Menin // Valdobbiadene – Italia
---
01 settembre 2018 / Ore 19:45
Adriatico Mediterraneo // Ancona – Italia
---
29 luglio 2018  / Ore 21:00
Fossombrone Jazz Festival // Fossombrone – Italia
---
30 Giugno 2018 / Ore 21:00
Roero Music Fest  // Alba, CU – Italia
---
26 Marzo 2018 / Ore 21:00
Carambolage // Bolzano – Italia
---
25 Marzo 2018 / Ore 14:00
Jazz Area Metropolitana // Dolo, VE – Italia
---
24 Marzo 2018 / Ore 21:00
San Vito Jazz // San Vito al Tagliamento, PN – Italia