16 Redshift
JOSH DEUTSCH & NICO SOFFIATO FEAT. ALLISON MILLER AND DAN WEISS
Josh Deutsch (trumpet)
Nico Soffiato (baritone guitar, bass, synths)
Allison Miller (drums)
Dan Weiss (drums, percussions)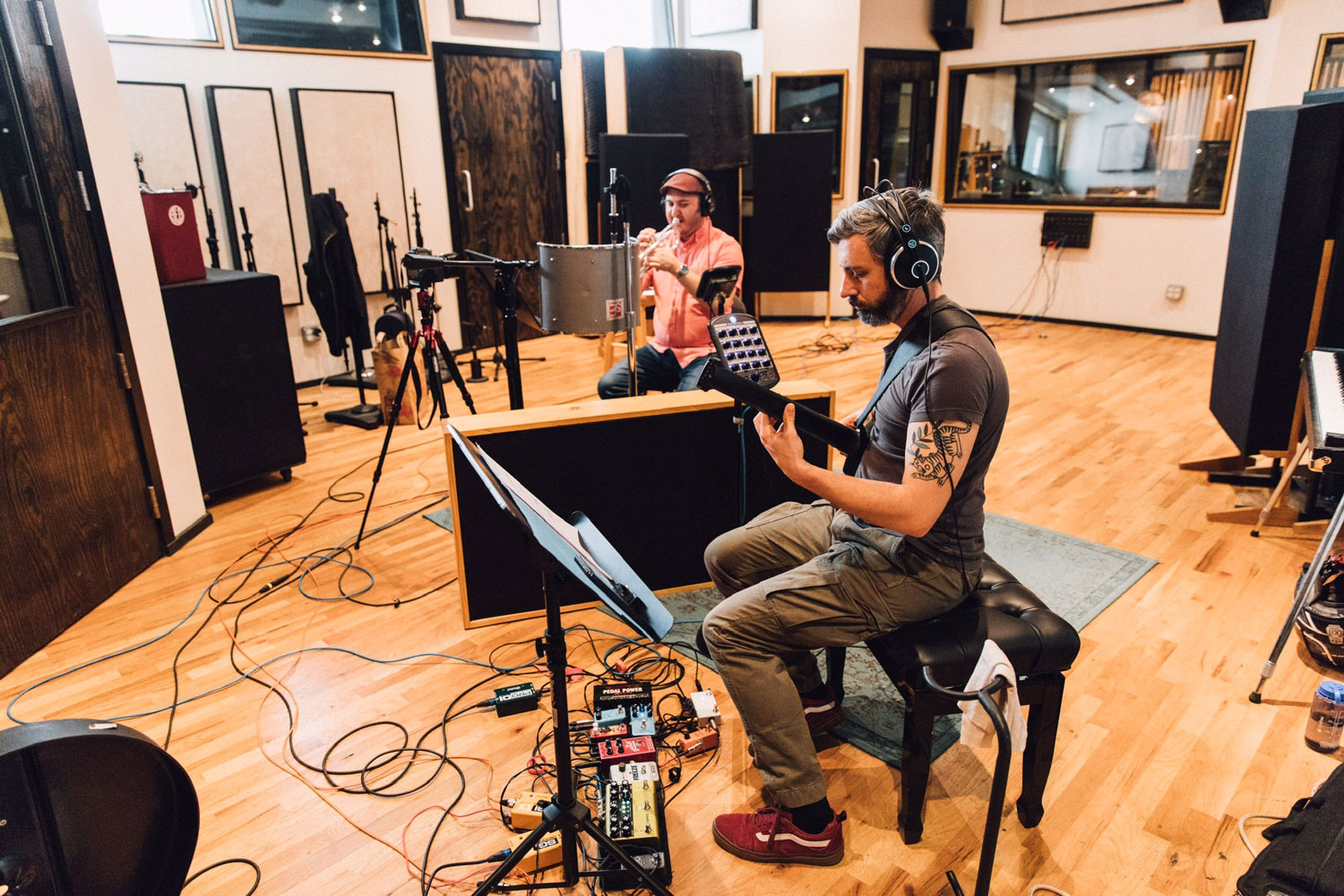 Redshift, the new album born from the collaboration between Josh Deutsch and Nico Soffiato, is out now.
A work released by nusica.org that continues in the mission of spreading new quality musical expressions, releasing the third album of the artistic duo born in Boston.
An artistic partnership between Josh and Nico that has lasted for over a decade, which is now expanding with the involvement of two great drummers from the New York scene: Allison Miller and Dan Weiss.
Redshift embraces a more rock aesthetic sound, while maintaining a jazz approach in the harmonic expression and rhythmic density which is enriched thanks to the participation of Allison and Dan: a perfect collaboration to express the concept of this album, as part of the New York music scene since many years.
As in the previous records, with Redshift we find an arrangement of a classical piece (44.2, rearrangement of the second movement of the Piano Quintet in E flat major by Robert Schumann) and a piece written in four hands (Consolation Prize), to which are added two covers: one song of Sufjan Stevens and one from the Brooklyn band Big Thief.
Another peculiarity of this album is the exclusive use of the baritone guitar by Soffiato.
Josh, who won in 2019 a Grammy for the best Latin jazz album, together with Nico, are expected in Italy in April, while in June they will continue the presentation of the album in the United States: Oregon, Washington State and California.
Josh Deutsch e Nico Soffiato
The partnership between Josh and Nico has began in 2005, the year of their meeting in Boston.
Josh, was a student at the New England Conservatory and Nico at the Berklee College of Music.
Once they moved to New York they recorded two records, Time Gels and Reverse Angle.
Together Josh and Nico created an original music ensemble by borrowing some of their favorite ideals of classical, jazz and pop music. The music ranges from electronic loops to entirely acoustic pieces, balancing carefully crafted compositions with space for exciting improvisations and interactions.
I am raw html block.
Click edit button to change this html
https://youtu.be/jKglq0ZxIyc
o1. Arrival (J. Deutsch) (feat. A. Miller)
This piece is built around a melodic fragment that sneaks in part way through the song and keeps returning until it takes over in the coda, transposed into three rotating keys. We were going for a nice wide-open feel, reminiscent of Bill Frisell.
> PDF
o2. Paul (A. Lenker, arr. N. Soffiato) (feat. D. Weiss)
This is a cover of a great song by the Brooklyn-based indie rock band Big Thief. I wanted to pay tribute to what I am listening right now.
> PDF
o3. 44.2 (R. Schumann, arr. J. Deutsch) (feat. D. Weiss)
Each of our albums has featured one piece of classical music (Satie and Beethoven on the first two), and we liked the idea of keeping that going. This is the 2nd movement of the E flat major piano quintet by Robert Schumann. Nico suggested it, and Josh turned it into a Balkan inspired arrangement, which features Dan Weiss on both frame drum and drum set.
> PDF
o4. Consolation Prize (J. Deutsch/N. Soffiato) (feat. A. Miller)
This tune was co-written by Josh and me. Every record we made has one or two collaborative pieces. I started writing this with the idea of a sus4 chord that turns in to a major chord a half step up, similarly to another tune, Alabaster, where minor chords turn major. Then I gave what I had to josh and he rearranged it and finished writing it.
> PDF
o5. Endnote (N. Soffiato) (feat. A. Miller)
This title was inspired by the writer David Foster Wallace, who famously wrote long, very long, endnotes. I was thinking about the relationship between craft, artistic vision, tradition and audience when I wrote this.
> PDF
o6. Triad Tune (J. Deutsch) (feat. D. Weiss)
This is a triadic chorale. The idea is that the chorale stays in place underneath the whole song, but the measures can be interpreted in any meter. We wanted to feature Dan Weiss and his rhythmic creativity on the recording, so the result is a constantly shifting rhythmic dialog that resolves to a satisfying 4/4 at the very end of the track.
> PDF
o7. Remember When (N. Soffiato) (feat. A. Miller)
This piece has a standard AAB form and a simple arrangement, and I wanted to channel a nostalgic mood. Think rolling end credits of a movie.
> PDF
o8. Tooch-Taach (N. Soffiato) (feat. D. Weiss)
This tune comes out of a hilarious drum groove I wrote a while ago. The tile is an onomatopoeic transliteration of the first four notes the drums play.
> PDF
o9. Time Lapse (J. Deutsch) (feat. D. Weiss)
Time Lapse is a continuation of a series of pieces by Josh called Time Gels (1-3) that have appeared on the past two records. In the Time Gels pieces, there's always a loop that gets reinterpreted in a few different metric variations. In Time Lapse, the drums (Dan Weiss) play with the 5/8 loop the whole song, but Josh and Nico play a rubato melody and harmony inspired by Bill Evans. They slowly phase into the drum and loop groove, and then fade back out for the last statement of the melody.
> PDF
1o. John My Beloved (S. Stevens, arr. N. Soffiato)
This is also a cover, of a song by Sufjan Stevens. This is the only duo arrangement on the album. It's all about textures, layers and sound explorations.
> PDF
Support nusica.org
nusica.org is a non-profit association that promotes musical culture.
Take part in the project with a donation of 13 euros and you will receive the CD as a gift.